It's Looking Like Christmas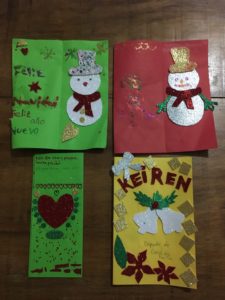 This year, we decided to send out Christmas cards to all of our sponsors written by your sponsored students. Get excited!
However, we have cards that don't have anywhere to go.
This is because these students don't have sponsors. These are precious, intelligent, hard working students.
As the school year ends, we begin to look ahead at next year. We have SEVERAL students who still need sponsors. There are some students who have been in our program for a while and whose sponsors had to stop and a few who are new but whose grades have shown us they want something more.
Some students wrote me a letter instead hoping that they will get a sponsor. I would love to be able to tell the almost 20 students who need sponsors that we found someone who believes in them.
The school year begins again in the beginning of February.
Would you consider coming alongside a student this year? The cards photographed here have no sponsor to receive them. Would you like to get one of these in the mail? If so, email us at [email protected].