Prayer & Visitation
What is outreach?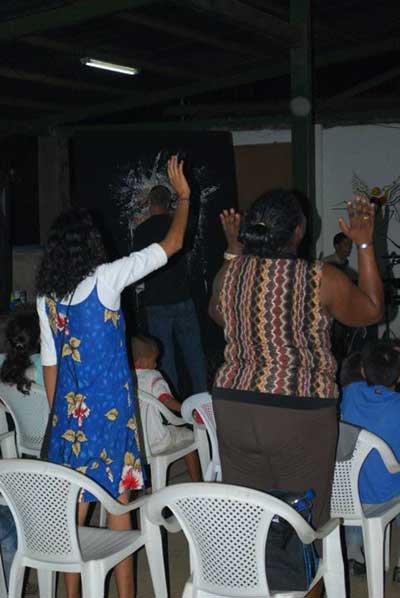 Outreach is an act of "going!" Unlike in American culture, in Nicaragua it is common for visitors to just drop in, show up at your house to pass the time in conversation. New Song takes advantage of this cultural norm to reach out to individuals and families with God's love. We visit a variety of people
The elderly and shut-ins
The ill and infirm
Widows
Those who have ceased to come to church
Those who are going through a difficult time
Those who do not know the Lord
In Matthew 25:36, Jesus says, "I was sick and you looked after me, I was in prison and you came to visit me." Although these people are not in a physical prison, some may feel like they are in solitary confinement! Why? In Nicaraguan society, there is a lot of mistrust. Often people have no one with whom to share their hearts, fearing gossip and judgment. Close friendships outside the family are unusual. Home visits offer people a safe place to share, with people who truly care about them and will keep everything in confidence. During these times of outreach, our goal is to leave everyone we meet in better condition than when we found them. In each visit, we offer time, concern, and a listening ear. Often people are eager to share about a problem or difficulty in their lives. We seek the Lord in prayer and, when appropriate, offer Biblical-based counsel.
Through love we build relationships with those we meet. Out in the villages and in the homes, you see the hurt, the pain, the brokenness, the unloved and dying spirits of the people. We make our goal to take the love of Jesus and spread it as far and wide as we can. Directed by the Holy Spirit, we follow, pray and see lives changed. Hearts have been healed and people have come to know the Lord as a result of a visit in their homes. The elderly and ill know that they are not forgotten by God or by His people. The lonely have been encouraged and comforted, and those with problems have learned that God's Word speaks to the issues in their lives. Most importantly, God is glorified, and His love is shown through this ministry.
Dr. Emil and Project New Life
In our first five weeks hosting "Project New Life" our pastors and their communities have been very encouraged to hear people say how grateful they feel for God to bring this effective ministry to them- the gift of a Christian psychologist. The biggest problem that Dr. Emil has encountered is men abusing their authority. In several cases we have seen God begin to restore the families who had lived with such suffering. This is an enormous battle, much like David against Goliath, and our communities are in great need of help. Through the help of some compassionate donors, the five pastors and one psychologist we have been able to help more than 50 people in this past month. When Dr. Emil began his work with those in need, they felt no purpose in their lives, they were absorbed in their fears, anger, resentment and sadness.  Life has begun to take on a better perspective. God is in process and He is beginning a great restoration.
Let me tell you about:
Anna, a 14-year-old girl who lives with her grandmother and her grandmother's boyfriend. When Anna was 11 years old she began to be sexually abused by this man. She was full of fear and had hardened her heart to protect herself. Of course she suffers great insecurity but with the help of God and the ministry of Dr. Emil, she is on the road to recovery, hopeful and encouraged.
The second case is about the Lopez family, a mother, three children 17, 15, and 13. For years before, when the father had been at home they had been considered a model family within the church.Recently, the father changed drastically and he left with another woman forgettingthat he had a wife and children.No one was prepared for this and the whole family fell into a deep depression.They could not understand what happened and they lost their sense of loving life and they hated the father. Death became desirable. The childrenrebelled toward their mother and drifted away from God the whole family was in shambles.Dr. Emil came into their lives at this time the youngest daughter was in danger of running away with a young man.Through God's help through Project New Life their faith in Jesus was restored and the family is forgiving, trusting God, pulling together and forging ahead.
The third case is about Martha a 13 year old who never knew her father. He left when she was one-year-old and he never visited again. A few months later her mother gave her to a family who could care for her.Martha was only there a short while before her mother took her back because she couldn't live without her.Financially she just couldn't raise her, so she gave her to another couple and they raised her until she was nine. When her mother came and took her away again, she gave her to an aunt who did not take good care of her. Martha practically raised her self alone she had no example of a healthy family, no values or principles, much less what love is. During her studies she met a 17-year-old boy who convinced her she would be better off living with him. They left together and it was a few days before anyone knew where she was.In 3 weeks, through the New Life project she is finding life to fill such a void. She has been eager to learn about God's values and principles and above all about the love of Christ. She is allowing Himto heal her wounds and begin the process to change her life for the better. Her countenance is one of hope and joy now.
(All names have been changed)
Rosa Lara
Rosa has been part of New Song church since it started in the year 2000. She's been married to Juan Ramon for 28 years and has eight children, three of which are still at home. Rosa is well-known in the community because of her prayer ministry. She has a great love for the people of her community and ministers to them by visiting them in their homes to pray for them and counsel them from the Word of God. Although she did not have the opportunity to go to school and thus cannot read well, she has learned much from listening to the Bible, and she lives it before the community. She visits those often forgotten: the elderly, the ill, and the widows in order to bring God's love to them and pray with them. She doesn't stop there; she also visits and talks with youth, women, men … nobody falls outside the scope of her ministry.
Rosa says, "I feel very grateful to God, because this talent that I have comes from Him. I told the Lord I wanted to serve Him with all my heart, and he guides me. I'm nobody, just an instrument in the hands of the Lord. All the glory belongs to Him. I pray for the sick, for the needs that people express, and encourage them to keep on keeping on, with the Lord. We have a living God, and nothing is impossible for Him."
This ministry has the purpose of reaching the whole community with the love of God. Workers in this ministry visit people in their homes to fill the needs that they have whether they need prayer, encouragement, counsel or simply a listening ear. When illness or disability prevents someone from coming to church, the church (Christians) go to them. When someone is visited in their home, they feel the love of God in a special way. Visits are made to the sick and widows, conforming to Matt. 25:36 and James 1:27. Many in the community have problems and feel lonely, and need to feel God's love and the love of others. The outreach ministry seeks out such people, to listen to and encourage. We also seek the "lost sheep," those who don't know God or who have fallen away from Him, to encourage them to return to the Lord Jesus and experience His incomparable love.